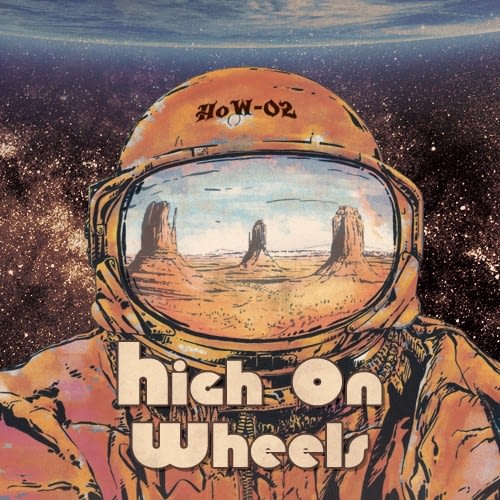 High on Wheels, fondé en 2014, est un groupe de desert rock influencé notamment par la Palm Desert Scene
Ce power trio propose un stoner brut qui brûle comme un soleil étrange sur une autoroute martienne.
En 2015 ils sortent « How », leur première démo auto-produite. Puis après un changement de bassiste en 2016,
ils se consolident et enregistrent leur 1er album « Astronauts follow me down » en live session au studio « La Batterie » à Guyancourt en 2018.
Ils ont joué sur tous types de scènes dans tous types d'endroits.
Ils ont ouverts le bal pour Geezer à Paris, mais aussi pour Glowsun, 7 weeks, Hangman's Chair, Nick Oliveri ou encore les Nashville Pussy.
En 2020, ils enregistrent un nouvel opus: Fuzzmovies. Leur musique vous emmènera dans un vieux cinéma, un « grindhouse » où leur rock lourd et psychédélique rencontre des samples de films de séries Z.
High On Wheels is a french power trio working the fuzz since 2014, influenced by the Desert Palm scene, their music is rough and it burns like a strange sun on a martian highway.
They began with a « homemade » demo in 2015. After the arrival of a new bassist who help consolidate the band, they recorded their first EP in 2018 during a live session in Guyancourt, France.
They played on a lot of different stage in a lot of different place, they opened for Nick Olivieri, Geezer, Nashville Pussy, Hangman's Chair, 7 weeks…​
In 2020, they recorded a new opus: Fuzzmovies. Their music will guide you in a old « grindhouse » where heavy psychedelic rock meet samples of Z movies.